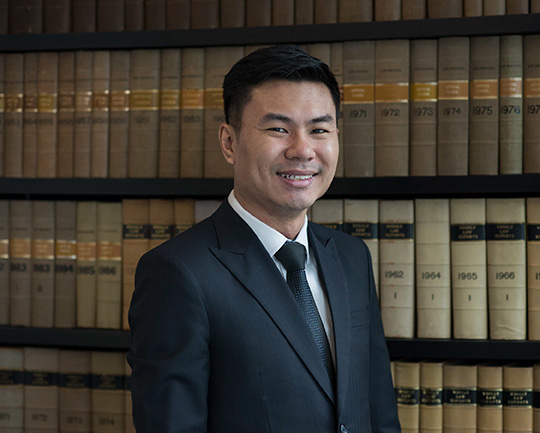 Mr. Low Chun Yee graduated from the National University of Singapore in 2012. He joined the Attorney General's Chambers as a Deputy Public Prosecutor / State Counsel for 5 years. A seasoned litigator, Mr. Low's experience as a criminal litigator consists of numerous trials in both the High Court and State Courts, including capital cases for murder and drug offences. He has also developed and fine-tuned his oral and written advocacy skills at the appellate level with various Magistrate's Appeals.
Having honed his criminal litigation skills and understood the internal workings of the prosecution, Mr. Low joined private practice in reputable mid-sized local firms. Mr. Low continues to apply his expertise in criminal law for the betterment of his clients.
Aside from criminal law, Mr. Low also has experience in civil litigation, Protection from Harassment Act matters, family law and wills. Mr. Low also provides corporate services such as the drafting and reviewing of contracts and agreements.
Mr. Low is a firm believer that justice should be accessible to all accused persons, regardless of their background. To date, he has helped over 120 accused persons on CLAS (Criminal Legal Aid Scheme) and LASCO (Legal Assistance Scheme for Capital Offences).
JUDGMENTS
Numerous judgments have been rendered on Mr Low's cases. Some of the reported judgments include:
PP v Mohammad Rosli bin Abdul Rahim [2021] SGHC 252
PP v Balahrisknan s/o Kuppusamy [2016] SGDC 76
PP v Yap Lee Kok [2020] SGDC 261
PP v Sivarajan s/o Darmarajan [2016] SGDC 323
PP v Surianny Binte Sulaiman [2020] SGDC 182
PP v Ho Lian Wah [2016] SGDC 143
Tongbao (Singapore) Shipping Pte Ltd and another v Woon
Swee Huat and others [2018] SGHC 165
PP v Selvakumaran s/o Singaram [2015] SGDC 78
PP v Lim See Yong [2017] SGDC 135
PP v Omar Bin Osman [2015] SGDC 67
PP v Neo Keng Hua [2017] SGMC 13
PP v Adith s/o Sarvotham [2014] 3 SLR 649
PP v Chan Lie Sian [2017] SGHC 205
PP v Brendan Jeremiah Aw [2014] SGDC 384
PP v Minjoot Sabestian Bernett [2017] SGDC 43
PP v Mohamed Fadzil Bin Hashim [2014] SGDC 68
PP v Ang Zhu Ci Joshua [2016] SGMC 2
PP v Mohd Hamdan Bin Ahmad [2014] SGDC 139
PP v Toh Eng Puey [2016] SGDC 99
PP v Joel Jonathan Selvanathan [2013] SGDC 257
PP v Fajri Bin Buang [2016] SGDC 148